Mobil home rental Normandy
Mobil homes 3 Bedrooms
MOBIL HOME BERMUDE
33 m2  – 6 pers
with terrace

Plenty of room in this beautiful mobile home comfort for any sized family. Experience a zen holiday on your campsite along the Seine river.
MOBIL HOME ALIZE
33 m2 – 4 pers. + 3 children
Integrated covered terrace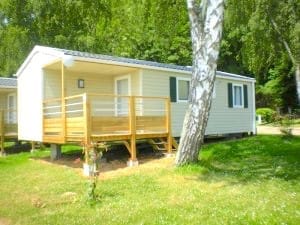 This large mobile home with its integrated terrace provide space and comfort for the whole family. Have a nice holiday in Normandy.
MOBIL HOME MALDIVE
31 m2  – 6 pers
with terrace

This mobile home offers modern accommodation, with a large covered terrace overlooking the Seine.
CHALET ATLANTIS
30 m2 – 4 pers + 1 child
Semi- covered terrace

Comfort and serenity is what you find with this family cottage. The wooden structure  brings more comfort for beautiful nights in Normandy.
CHALET MOREA
27 m2  – 4 pers. + 1 child
Covered terrace
A beautiful cottage for family with 2 bedrooms and a sofa in the living room. A very nice value for money for great family holidays in Normandy.
Mobil home IBIZA
27 m2 – 4/6 pers
Covered terrace

A very good price / quality ratio for this mobile home with 2 bedrooms and large living room. Weekend or holiday, enjoy a quality accommodation.
Mobil home BIKINI
23 m2  – 4 pers.
Covered terrace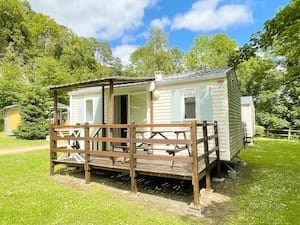 A mobile home ECO family on a budget. But you have all the necessary comfort for a successful stay in Haute Normandie. Book now !
Mobil home SEYCHELLE
29 m2 – 4 pers
Covered terrace

The Seychelle mobile home is the assurance of welcoming, functional accommodation with a direct 180° view over the Seine. + modern + spacious + bright
Mobil home DUO
14 m2 – 1 bedroom – 2 pers
Covered terrace

A nice single bedroom mobile home cozy for a couple. On weekends or holidays, better than a hotel room and cheaper.